New, from SFE's Mind!
What The?!
This IS an ART camp.
NO CHEATING. This means no taking other's art.
No Quitting.
No Cussing.
Only 1 guess and picture.
No Fighting. THIS IS HEAVILY FROWNED APON.
Elimination Table
Edit
To Be Made
Everyone will get 10 Gold Coins. Each coin will be taken away, given, or kept. I will describe something and everybody must guess what it is and draw a picure. So Like this: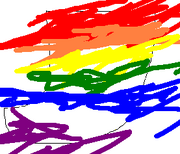 AUTOMATICLY OUT.
There will be judging on the art, It's EXCELENT,3 coins. Maybe, 2 coins. Try Harder,1 coin.